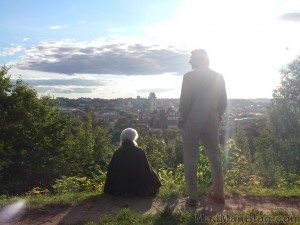 These are the places I would go if I only had 1 month to travel through Europe.  I'll tell you where to go, how long to stay, what not to miss, and how to get to each city.  This is a great guide for people new to Europe and it should give you a good basis from which to plan your trip.
In addition to the list below, I will include some other cities that you may want to visit.  Remember, this is just an outline and you should go wherever your heart desires! 🙂
Cities to Visit:
London
Paris
Brussels
Bruges
Amsterdam
Berlin
Prague
Vienna
Alternate Cities (not covered in this article):
Dublin
Krakow
Budapest
Barcelona
Madrid
London
Duration of Stay: 4 Days
Things not to miss:
Camden Town
Portobello Market
Big Ben
Musicals
Free Museums
London is SUPER expensive.  There are many things you can do here but I recommend a simple walking tour to take in the city (Walking Tour of London).
Getting to Paris from here: Eurostar train (2 hours) or Bus (7-9 hours – Eurolines or Megabus)
Paris
Duration of Stay: 4 Days
Things not to miss:
Musée d'Orsay

Catacombs

Montmartre

 (be very careful of the street people here)
Neighborhood around the Opera metro stop
There is a lot to do in Paris and parts of it are simply amazing but, the most important thing here is to be very very careful and to trust NO ONE.  At every corner there are people trying to scam you, cheat you, rob you, or generally harass you.  Never ever give money to anyone on the street here, you are then just perpetuating the problem of crime in the city.
Also, skip the Louvre.  Yes, skip it!  The Mona Lisa is the size of a postage stamp and is the least impressive and least interesting painting in the entire museum.  If you want a good guide for what to do in Paris, search this site as I have many articles and guides for this city on madmanblog.com.
Getting to Brussels from here: Train (1.5 hours – many options) or Bus (5 hours – Eurolines or iDBus)
Brussels
Duration of Stay: 2 Days
Things not to miss:
Grand Place (main square – you must have a beer here in the evening!)
Walking around during the day!  (women need to be very careful at night here)
Sampling as much of the beer as you can stomach.
Brussels has a few attractions but, really, the best thing to do here is to buy some Belgian beers, go to the Grand Place (main square) at night, and drink those beers with a friend or a lover.  The Grand Place is the most beautiful square that I have ever seen.  (remember that it is legal to drink in public in Belgium)
Do be careful of the street people here.  Belgium is extremely multicultural, which is simply code for "you will be robbed or harassed by people from many different nationalities."  In all seriousness though, women should never ever walk the streets of this city alone at night (this is not a joke).  During the day though, I think you will find it to be a lovely city.
Getting to Bruges from here: Local train – 1 hour
Bruges
Duration of Stay: 2 Days
Things not to miss:
The entire city
Christ's blood
Windmills
It is an amazingly well preserved medieval city.  Every street looks amazing and the view from the bell tower is just wonderful.  The thing to do here is simply to walk through the city and take it all in.
Also, it is great fun to watch the movie "In Bruges" while you are in Bruges. 🙂
Getting to Amsterdam from here: Train (3 hours) or Bus (buses usually leave from Brussels)
Amsterdam
Duration of Stay: 2 Days
Things not to miss:
Wandering the city by day.
Red Light District – This is really crazy if you are not used to it and the women that are there at night just wow, they're hotter than anyone you have ever seen, let's just put it that way.
Forget the museums or other attractions here, the real attraction is the city itself.  It is simply beautiful!  During the day it is relatively calm and the canals and old buildings, none of which seem to have been made level, create a surreal since of tranquility, peace, and beauty.
And, if you really want to relax while enjoying the beauty of the city, smoke a joint at one of the many coffee shops before you tour the city. 😉
Getting to Berlin from here: Plane, Train (6.5 hours), or Bus (12 hours) – Trains and Buses take a while – book a plane ticket early and you should get a cheap price.
Berlin
Duration of Stay: 3 Days
Things not to miss:
Brandenburg Gate and the surrounding area by foot

Berlin Underworld Tour – https://berliner-unterwelten.de/guided-tours.3.1.html
Mauerpark on a Sunday (turns into a pseudo hippie but-not-so-hippie mini festival – also, the Berlin Wall runs through the park)
Berlin is really spread-out and there are a lot of smaller attractions here and there, but most of the cool stuff that you will want to see is around the Brandenburg Gate (Brandenburger Tor).
Getting to Prague from here: Train (5 hours) or Bus (5 hours – Eurolines)
Prague
Duration of Stay: 3 Days
Things not to miss:
The Old Town
The Castle
The Beer
Get a map of the old town and wander around.  There, you will see most of the cool stuff that everyone talks about, such as the Charles Bridge, the Cathedral, and the Astronomical Clock.  This city is not too big and it pays to wander around during the day.
Getting to Vienna from here: Train (4.5 hours) or Bus (5 hours – Eurolines)
Vienna
Duration of Stay: 3 Days
Things not to miss:
Cafe Central (My favorite place to eat in the whole world!!!)
Wiener Schnitzel

Schönbrunn Palace and Gardens

Wandering around inside the Ring Strasse (main old part of the city)
Relax, you are in one of the most livable cities in the world.
I personally love Vienna.  In fact, I don't know why I'm not there right now… Like many cities in Europe, you will want to wander around the old part of the city and look at the cool things such as the Cathedral (St. Stephens) and don't miss the Opera House.  Wandering the old part of the city is tourism 101 in Europe but, BUT, here you must go to Cafe Central.
Cafe Central is AMAZING.  The food is the best I have ever had, there is a man playing a piano, there are more pastries and desserts than you can count, and you are sitting inside of an old palace, which still looks like a palace on the inside.  If you go to Vienna after reading this article and you do not go to Cafe Central, please just keep that a secret because you really missed out!
Notes on Transportation
Everything will be much cheaper if you book early.  In fact, you will be able to find train tickets for less than bus tickets if you book early and, sometimes, you will find plane tickets for less than train or bus tickets if you book early.
However, except for Amsterdam to Berlin, each train journey will be less than 5 hours and easy to complete in a morning or afternoon with either direct train routes or just 1 connection.
For train schedules, use the website https://www.bahn.de and select English as the language from the top of the page.  To book the tickets however, you will have to go to the local website for the tickets – French train site to book french tickets, Belgian train site to book blegian tickets etc. and you can find these sites by searching for them in Google.
For flights, I use https://www.skyscanner.com
For buses, I use https://www.eurolines.com/en/ and also search for other, sometimes cheaper, bus tickets with a search in Google.
You may notice that this trip doesn't add up to 30 days and that is because you should give yourself a day to travel between the cities if you don't want to get burned-out too quickly.  Night trains and buses generally don't leave you refreshed and ready to be a tourist the next day.  If you wanted to speed things up, I would add Dublin, Krakow, or Budapest to the itinerary; but, don't underestimate the importance of a little downtime.
Is there anywhere else you think someone should go if they only have 1 month to travel Europe? (leave it in the comments below)