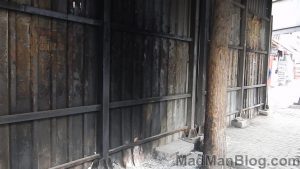 Oh Istanbul, my Istanbul.  You have been oh so naughty, yes you have…
It's daylight now; though I've been up since the early calls to prayer have filled the city like a cacophony of screeching cats before dawns break.
As I walk onto the balcony to take in the morning light, my nostrils fill with that distinctive smell of burning trash, stinging whiffs of plastic and rubber and all that should not be burned.
I later learn that this is from the fires of the midnight whores, burning all night long to keep their goods nice and warm.  The whores themselves range from the exotically beautiful to the middle-aged man dressed as a female; they wait for the taxi drivers to take a break for food and more.
I pass the whores working the tail-end of the night shift as I make my way to the main shopping street; it is 9 in the morning.
Walking down this most populated of streets I am harassed by multiple men trying to scam me in one way or another.  At one point, two men walk next to me, pushing me to answer the most basic of questions, those which inevitably lead to a seemingly friendly conversation, false sense of security, and physical or monetary detriment to myself.  Once they realize the futility of their efforts, I am free to make my way to the beautiful parts of Istanbul.
Walking down a hill so steep I could not imagine a city built upon it, I notice how, though this street is quite lovely, only meters away from it appear to be squalor the likes of which I have not before experienced.
As I make it to the most visited, and, as such, beautiful part of the city, I am constantly reminded of one thing, terrorism.
The streets surrounding the main sites are practically empty; there are more camera crews than tourists and all with rented vans, which can mean only that they came to this city for the carnage.  Walking closer to the most famous of mosques, the Blue Mosque, I see where a man exploded his suicide vest next to a group of German tourists just one day ago.
The feelings of fear, combined with anger and confusion lead to a sense of numbness.
Approaching the sights, I cautiously avoid all crowds, crossing streets, never standing near an entrance to anything, walking instead of taking public transportation.
I resolve that I will see this city, will experience it, for better or worse.  Statistically speaking, I will be safe, but that's a tough sell for the brain.
Though I manage to visit many major and wonderful sites this day, I am constantly plagued with disappointment.  Maybe I have seen too many wonderful things up to this point in my travels; maybe it is the gloomy cloud of terrorism that hugs the day like fog in a mountain valley; maybe it is that Muslim architecture is inherently less ornate than that of the Christians; maybe it is all of the above.
But, I am here. I will visit, explore, experience, and live in this city.  I will see what it has to offer.  Though, every moment I spend here, I feel more and more that the golden city that was promised to me simply does not exist.
[mappress mapid="143″]