One of the oldest buildings in Rome.  One of the most impressive buildings in Rome and the world.  Built to worship all gods.  It has perfectly balanced 20 ton doors.  It contains the largest dome in Rome.  It has a giant hole in this dome.
So, you have certainly watched a history channel show on this building and have heard people talk at length about how impressive it is and how old it is and how it is an engineering marvel.
Now, let's talk about the real pantheon experience.  You're in Rome and you are wandering into the most beautifully decorated and ornate churches in the world.  You are walking by sites such as the Trevi fountain and the Colosseum and then you get to the Pantheon.  You see it from afar and start to get excited.  You think to yourself "I'm going to see a two thousand year old building; one of the most talked about buildings in the world; this will be exciting" and as you are thinking about this a big smile comes across your face.
As you approach the building, you grow even more excited; it looks just like it does on TV and in the movies.  And, this is pretty much what it would have looked like when it was built.  You get giant columns, giant doors, and a cool fountain outside.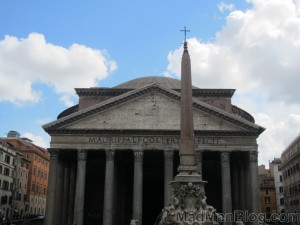 Going inside, for some reason, you expect to be similar awed.  You start to walk in past the really cool doors that you think would look cool in your mansion, if you had one, and then you get inside the building.  The first think you notice is that the hole in the dome is much bigger than it looks through any screen be it a tv, computer, or whatever-pad.  The second thing that you notice is that it is just, just a dome.  It's just one big room with a dome on top.  Now, there are rooms behind it that you can't enter, but the main thing is this big, practically empty room.  Even when it had lots of statues and decorations, it still would have just been this singular room.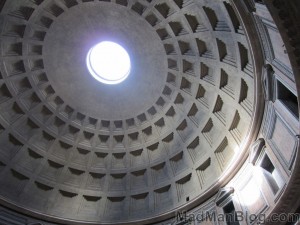 This would be really impressive and cool if you hadn't just come out of three different churches that had tens of rooms that each had domes, vaulted ceilings, and beautiful artwork to boot.  The problem is not that the building isn't impressive, because it is; the problem is that it has been so built-up that your expectations are out of this world.  Therefore, you already have high expectations for this building and you expect only the best and most impressive features.  Sadly, this dome does not impress in terms of visual appearance; engineering talent, perhaps.  The second problem, as previously mentioned, is that, relative to surrounding buildings and the church directly behind it, it has a limited visual 'awe' factor once you are inside.  This is kind of interesting because the churches, built much later, mostly have a boring appearance from the outside and are amazing on the inside; the exact opposite of the Pantheon.
In conclusion, the Pantheon is cool!  You should definitely see this and check out the dome with the funny hole in the middle.  Just try to suppress your expectations of visual beauty or overwhelming stature, which it lacks, and you will enjoy this site quite a bit.  And don't see the Colosseum before you see this or you will be similarly unimpressed.
[mappress mapid="1″]